Top 5 Favorite Spots I've Journaled
There is a running joke in my family about my life long love of journaling. Whenever there is a dispute about when something happened in our past, my brother and sister often say "Christi, check your journal." The ironic part of the joke is most likely I could and resolve the debate. Ever since I was in fourth grade and my mother bought me a little book with a small lock on it to record my daily thoughts, I have been hooked. Over the last 30 plus years, I have collected journals of every size with countless hours spent writing down thoughts, events and whatever else poured out of my head onto the pages. Even now, I maintain two journals, one for just everyday type thoughts and another for my travels.
The best part of journaling for me is finding the perfect spot. Whether it is on my patio with a cup of coffee or on top of some mountain I've climbed, each location becomes part of the journaling experience. So, here are my top 5 spots (so far) that I've journaled.
On my western road trip, I stayed at The Red Mountain Resort for a few days, which is close to Snow Canyon State Park in St. George, UT. Every morning, I would grab coffee and breakfast to go from the resort, climb the red mountains just as the sun was breaking the surface, find the perfect spot and sit down and journal about the beauty that surrounded me. It was so therapeutic to start my day off this way.
On my Northwest Road Trip, I journaled at every stop over the 18 days, but one of my favorite views was the Tetons in Wyoming. I found a sweet spot at a picnic area overlooking Jackson Lake. I sat here for an hour admiring the mountains, smelling the air and journaling.
I think the ironic thing about Horseshoe Bend in Page, AZ, was the fact it wasn't on my list of things to see when I planned my midwest road trip. I was taking the tour at Antelope Canyons when I met a couple who asked if I was going to Horseshoe Bend after our tour. I had no clue what it was, but decided to map it out to see if it was close. Turned out it was literally down the road, so I went not knowing what to expect. Once I got there I totally recognized it from stock photos I had seen on screen savers. It was majestic-like. I sat on the top of this incredible formation for hours, thinking, taking photos and of course journaling.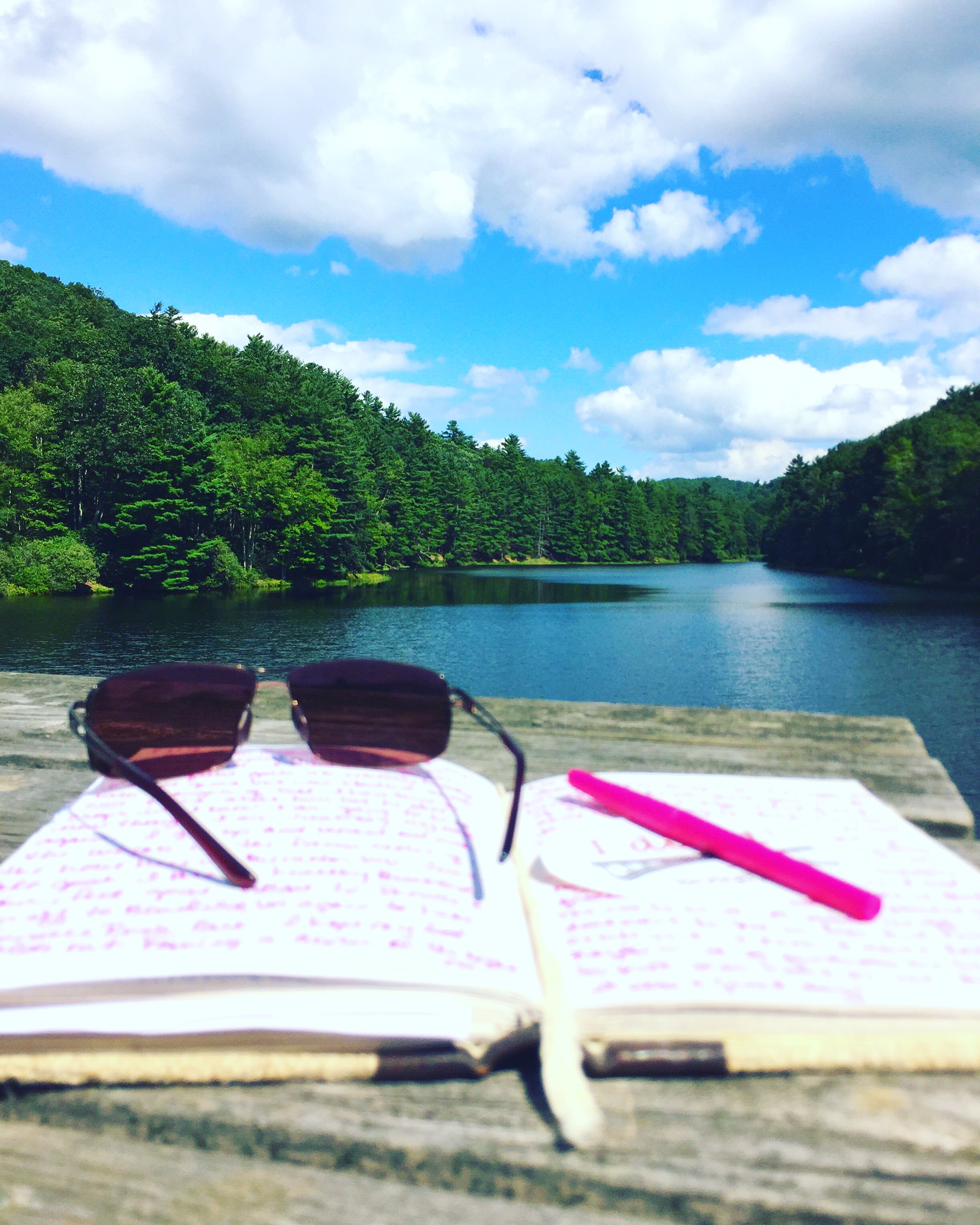 On my way to Pittsburg, via some West Virginia back roads, I stumbled across a sign that said "Watoga State Park" so I took a right and it led to a beautiful lake with a picnic table on a small hill that overlooked it. I have learned that detouring on road trips can lead to some of the most beautiful places.
5. AIRBNB'S WITH GREAT VIEWS
When I'm not camping on trips, I love finding Airbnb's with incredible views like these two. The first picture is at an Airbnb in Lakeside, MT. It was a moderate size studio with a nice deck that overlooked Flathead Lake and the mountains that surround it. If you are in the area, I recommend booking Allison's place - and the first photo on the Airbnb profile is one I took before sunrise. The second picture is from my stay in Malibu, CA. This place was unbelievable! The room is off the main house with a private entrance and is just a getaway in itself with a small library and a rolling ladder. You also get access to the main house which is a typical Malibu home with all of the amenities including an incredible view and hot tub. Natasha was the perfect host.
AND . . .
I have to give some honorable mentions to some local Nashville spots too! 1) Percy Warner Park sitting in an open field close to Steeplechase with my dog Chance watching for strangers. 2) Beaman Park - this park has some good hiking trails and at the end of the Ridgetop Trail there is a nice area with benches to sit and journal your thoughts away. 3) Nashville has grown so much in the last few years and that means new local restaurants to try. One of my favorites is Urban Cookhouse. I recommend ordering a BALT and mimosa and sitting out on the patio. 4) The limestone staircase at Percy Warner Park - if you go early in the morning there aren't a lot of people running the challenging obstacle and it is quiet with a great view from the top.
Do you journal? I'd love to hear if you have a favorite spot or spots to journal too. If you don't journal, I would encourage you to start - it really is the an incredible outlet.
Until next time,
Keep Wandering!
Gigi